Coraline (2009)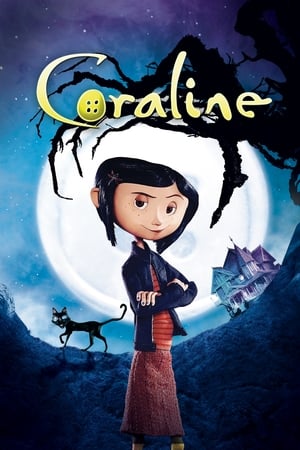 Coraline (2009)
Animation, Family, Fantasy Movie 100 Min with the title Coraline (2009), story about When Coraline moves to an old house, she feels bored and neglected by her parents. She finds a hidden door with a bricked up passage. During the night, she crosses the passage and finds a parallel world where everybody has buttons instead of eyes, with caring parents and all her dreams coming true. When the Other Mother invites Coraline to stay in her world forever, the girl refuses and finds that the alternate reality where she is trapped is only a trick to lure her.
Release: Feb 05, 2009
Duration: 100 Min
Dakota Fanning
Coraline Jones (voice)
Teri Hatcher
Mel Jones / Other Mother (voice)
Jennifer Saunders
April Spink (voice)
Ian McShane
Mr. Sergei Alexander Bobinsky / Other Bobinsky (voice)
Dawn French
Miriam Forcible (voice)
John Hodgman
Charlie Jones / Other Father (voice)
Robert Bailey Jr.
Wyborne "Wybie" Lovat (voice)
Aankha Neal
Sweet Ghost Girl (voice)
Hannah Kaiser
Tall Ghost Girl (voice)
George Selick
Ghost Boy (voice)
Harry Selick
Photo Friend (voice)
Marina Budovsky
Photo Friend (voice)
Emerson Tenney
Magic Dragonfly (voice)
Jerome Ranft
Mover (voice)
Christopher Murrie
Toy (voice)